The Table of Content








Family Research:















Available Help: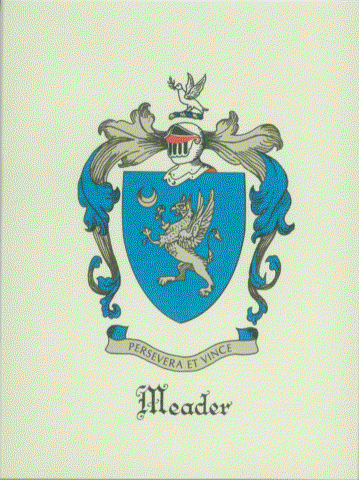 The Meader Coat of Arms


Our family dates back to John Meder b. 1629 in England. He married Abigail Follette, married about 1653. With one exception, you should find our research to be similar to most other Meader Family Genealogies.

Other than "where" Daniel Meder is buried, the biggest link missing in the family is "Who was Daniel Meder's father?" I have witnessed other speculations but so far no one has found undisputable evidence.

All that being said, I am offering a suggestion predicated on ten circumstantial findings. My suggestion obviously needs further research. But I have reason to believe Elijah Meader (b. 14 June 1744) and Elizabeth Hoag (b. November 7, 1746) may be the most likely parents of Daniel Meder (b. born on March 5, 1779)

Our findings that lead us to Elijah and Elizabeth are as follows:

 1. Elijah Meder and Elizabeth Hoag were married in Amesbury, Essex County, MA on January 31, 1770 which establishes Elijah's presence in Amesbury County, MA.

 2. Daniel Meder married Rebecca White Carleton in nearby Bradford, Amesbury County, MA.

 3. Other than Daniel and Elijah's family, we can not find other Meader's in that area between January 31, 1770 and March 5, 1779.

4. Elijah was the right age to be Daniel's father.

5. Large year gaps appear in the birth pattern of Elijah's identified children. These gaps most likely indicate some of Elijah's children may be currently not documented.

6. Daniel birth date fits well into the birth pattern of Elijah's reported children.

7. At least three of Elijah's identified children (Nathan, Sarah and Asa) moved to Vermont.

8. If Daniel had family ties in Vermont, it is reasonable to assume Daniel would have some motivation to move to Vermont too. About 1811, Daniel and Rebecca moved to Vermont.

9. Elijah's father's name was Daniel.

10. Haverhill Historical Society claims Elijah spelled his surname as Meder."

Until someone can reasonably dispute our premise with undisputable evidence or someone has located more factual circumstantial evidence, OFM will continue to suggest Elijah Meader and Elizabeth Hoag as the parents.

In addition, we are placing two asterisks (**) in front of Elijah's name to signify this is a possible answer to the question, "Who is Daniel Meder's father?"

I think it is safe to assume all Meader researchers would like to see this mystery solved.

Please click NEXT to continue.